Create a Sanctuary with These Cozy Bedroom Ideas
September 19 2023 – Chic Home -Lawrence-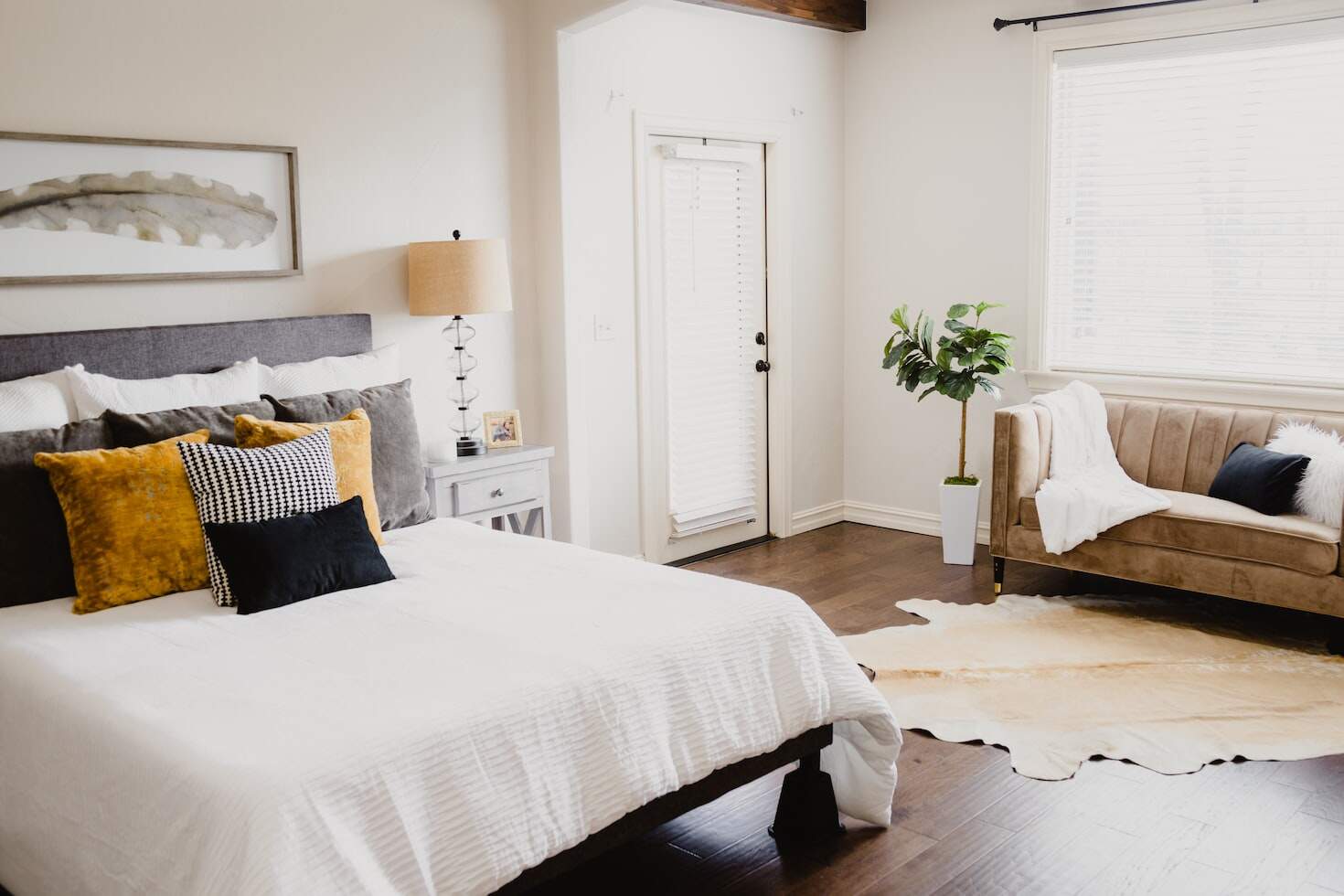 At Chic Home, we're all about adding a touch of elegance and warmth to your living spaces, and today, we're offering up our favorite cozy bedroom ideas! Get ready to transform your bedroom from merely a place to sleep into an enchanting retreat that promotes rejuvenation and relaxation.
Dreamy Color Schemes
First things first, let's talk about the color scheme! Soft pastels, earthy tones, and neutral hues help create a soothing ambiance. From blush pinks to soft grays, these colors are gentle on your eyes — especially on those late nights and early mornings. Want a touch of drama? Go bold with deep blues or purples. Mix and match to find the perfect decor palette for your cozy bedroom paradise.
Layer it Up
Think cozy bedroom ideas, think layers! Layers of soft fabrics, textures, and materials can make your bedroom feel like a luxurious escape. Throw in a chunky knit blanket, soft cotton sheet sets, and fluffy pillows, and you'll have a bed that practically calls your name. To really tie your room together, add a plush pouf or a basket with some luxury throw blankets. There's an art to cozy layering and you are the artist. 
Artistic Flair
At Chic Home, we believe art isn't just reserved for galleries; it belongs in your home to create an inspiring haven. Accent a soft blue and gray bedroom with seascape wall art or, if bold abstract pieces are more your style, dive into the myriad of colors and shapes that contemporary art offers. For this cozy bedroom idea there are no rules, just your unique expression!
Green Therapy
Indoor plants are more than just a trendy decor item; they're a breath of fresh air — literally! Choose easy-to-care-for plants like succulents or snake plants and place them on your nightstand, windowsill, or even in a macrame hanger. This cozy bedroom idea will add life and vibrance to your peaceful abode. Not to mention, house plants help clean your air of impurities so you can breathe easy as you fall asleep.
Chic Storage Solutions
A clutter-free space equals a clutter-free mind. With smart storage solutions like elegant storage benches, simple woven baskets, or modern ottomans with hidden storage space, you can keep your sanctuary neat and organized. Because let's face it, there's nothing cozy about stepping on a stray shoe in the middle of the night!
Mindful Corners
Lastly, consider creating a mindful corner in your bedroom complete with an accent chair, soft lighting, and your favorite reads. This can be your little escape within an escape, a place to unwind, meditate, or dive into a gripping novel. Be sure to choose a comfortable yet cute chair and watch the cozy bedroom aesthetic come to life.
Create the Ultimate Cozy Oasis with Chic Home
Your bedroom is your personal place of rest and relaxation. With these cozy bedroom ideas, you can create a space that's both chic and inviting. Let your creativity run wild as you craft a true sanctuary.
At Chic Home, we're passionate about helping everyone live a chic life without breaking the bank. From cozy bedroom decor to luxury furniture, we offer a wide array of products that cater to all styles and tastes. Enjoy our free shipping over $99, and high-quality designs to inspire creativity. So, why wait? Your cozy bedroom sanctuary is calling!